Continued Hatchery Management Will Ensure Benefits
Hatcheries serve two purposes in recovery. First, hatcheries are used selectively around the state to augment natural salmon runs. This critical work is necessary to rebuild salmon runs that have been reduced to just a handful of fish in some rivers because of a loss of habitat.
Second, hatcheries boost the number of fish statewide, reducing the impact of fishing on wild salmon. More than 80 percent of the salmon caught are born in hatcheries. Until habitat conditions improve, hatcheries are needed to meet tribal fishing and treaty obligations, support local and regional businesses reliant on fishing and outdoor recreation, and provide critical food for orcas, other wildlife, and humans.
Hatchery programs may hinder salmon recovery if they are not monitored, evaluated, and adaptively managed to limit risks to wild populations. Hatchery-raised fish can interbreed with wild salmon and weaken the fitness of wild stocks and they also can compete with wild salmon for food and other resources. These factors contributed to salmon declines in the past, but wide recognition of these impacts has improved management of hatcheries statewide. Continued efforts to monitor, evaluate, and adaptively manage hatchery programs will ensure hatcheries can achieve their intended benefits without impeding recovery of wild salmon.
Along with efforts to monitor hatcheries, an equal amount of effort must be invested in protecting and restoring habitat. Agencies and Indian tribes have operational plans, such as the Hatchery Genetic Management Plans, to ensure compliance with the federal Endangered Species Act and broader recovery efforts. Many non-state hatcheries also have genetic management plans. These plans do not achieve recovery, but act to limit the potential impacts from hatcheries.
Most of the Washington Department of Fish and Wildlife's Hatchery Genetic Management Plans are either approved or under review by the National Oceanic and Atmospheric Administration (NOAA). Of the 159 anadromous hatchery programs, 119 require Hatchery and Genetic Management Plans. Of those requiring plans, 114 have been submitted to NOAA and 66 have been approved by NOAA.
Only the hatchery programs that have impacts on Endangered Species Act-listed fish require plans. The 40 coastal programs do not require plans.
The map shows the department's hatchery program locations and whether each program has a Hatchery and Genetic Management Plan.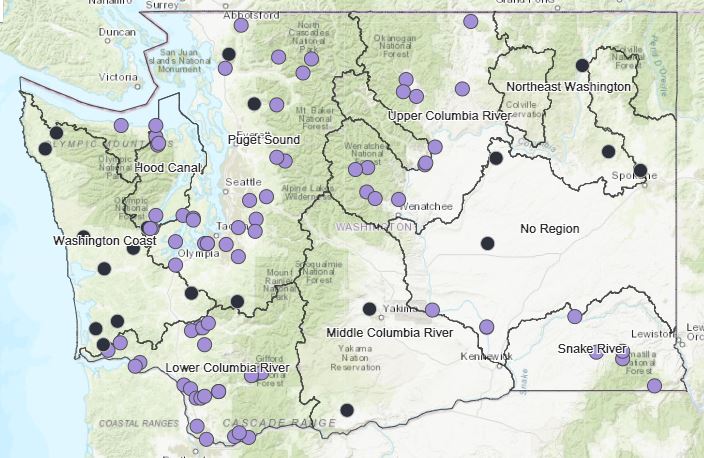 Because rates that hatchery fish stray in some watersheds (due to past practices) pose a risk to recovery, the department has established rigorous monitoring and adaptive management programs that meet federal permit requirements and reduce stray rates and risks to salmon recovery. Tens of millions of dollars are needed for capital construction projects at department hatcheries to meet recovery goals.
Along with efforts to monitor hatcheries, an equal amount of effort must be invested in protecting and restoring habitat. The State and treaty Indian tribes work together to co-manage hatcheries so they align with the goals and objectives in the federally approved recovery plans that are the foundation for Washington's recovery efforts.