Key Takeaways
Of the 74 populations of wild salmon, steelhead, and bull trout, just 26 (35 percent) are meeting their minimum recovery abundance goals.

The substantial progress made in hatchery and harvest reform will need to be sustained while efforts are increased in other recovery areas such as habitat restoration, hydropower systems, and ecological interactions.

Rapid urbanization in some watersheds is challenging our ability to sustain healthy habitat and highlights the importance of better integrating salmon recovery needs in land-use and regulatory programs and improving habitat monitoring.
View Key Recovery Indicators
Progress and Challenges
Progress
Protected more than 7,800 acres of habitat critical to salmon survival
Removed more than 300 barriers to fish passage, opening more than 400 miles of habitat to salmon and steelhead
Enhanced and protected more than 300 miles of rivers and streams
Enhanced and protected more than 4,000 acres of estuary
Developing the first report for the Conservation and Sustainable Fisheries Plan with the Washington Department of Fish and Wildlife, addressing hatchery and harvest reform progress
Evaluated the recovery program across partners and found that we need to better integrate recovery needs in land management programs
Saw 13 of 22 steelhead populations achieving or making progress toward minimum recovery goals
Challenges
Population growth and development continue to degrade habitat in urbanizing watersheds.
Increasing abundance and spatial distribution of chum salmon are progressing slowly.
Recovery of many tule fall Chinook populations is progressing slowly because of the prevalence of highly altered, lower watershed reaches where habitat work is challenging. Also, population sizes are small and hatchery production historically and currently impact Chinook.
Funding to fully implement the Lower Columbia Habitat Status and Trends Monitoring Program is lacking, which inhibits our ability to evaluate properly habitat gains and losses over time.
Maintaining fishing opportunities while successfully implementing hatchery and harvest reform actions is challenging.
Recovering spring Chinook is contingent upon successful reintroduction into the upper Cowlitz, Cispus, and Lewis watersheds. Progress is occurring but slowly
Addressing climate change and ocean condition impacts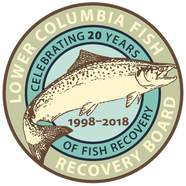 Visit the Regional Recovery Organization's Web site
Click Here
Extending from the mouth of the Columbia River at the ocean upstream to, and including, the White Salmon River, this region includes 18 major watersheds and the estuary. It is home to five species of Endangered Species Act-listed salmon, steelhead, and bull trout, comprising 74 distinct populations. Together, these represent 60 percent of the listed populations in the Columbia River basin. In addition, all fish in the entire Columbia River basin travel through this region on their way to spawn upstream, and their offspring rear in the estuary on their journey to the ocean.
There are 8 major tributary dams, 1 Columbia River dam, more than 20 hatcheries, and many important tribal, sport, and commercial fisheries here, which make salmon recovery efforts especially complex. The region's recovery plan aims to restore listed fish to healthy, harvestable levels. To reach this goal, the plan addresses the full life cycle of fish and provides a comprehensive roadmap for reducing limiting factors affecting recovery across threats to salmon and steelhead: habitat, harvest hydropower, hatcheries, ecological conditions, and ocean and climate conditions.
The Lower Columbia Fish Recovery Board is the regional recovery organization and lead entity for the lower Columbia River. The board works with a diversity of partners to recover salmon, steelhead, and bull trout populations to healthy and harvestable levels by guiding implementation of the recovery plan. This involves coordination with more than 80 local, state, tribal, and federal partners across six counties.
Salmon Recovery Stories
Enter "Salmon Stories" using the button below to explore story maps from tribes, salmon recovery groups, and agencies.