Learning about Salmon
Washington is home to Chinook, chum, coho, sockeye, and pink salmon, steelhead, and bull trout. In addition, several sub-species have specific runs and habitat throughout the state.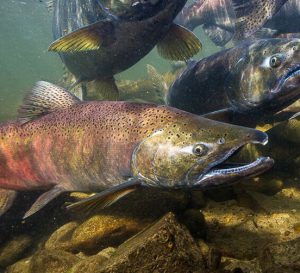 Chinook salmon are the largest Pacific salmon and can live up to 7 years. Chinook have highly diverse life history strategies: some spend more than a year in freshwater as juveniles, while others migrate to estuaries or the ocean after just a few weeks. Some populations return as adults to freshwater in early spring while other populations return in summer through late fall. Chinook are the preferred food of Southern Resident orcas and many humans, who covet their rich, oily meat. Chinook populations have decreased in recent decades across the species' range. In Washington, Endangered Species Act protections apply to Snake River spring/summer and fall Chinook, upper Columbia River spring Chinook, lower Columbia River Chinook, and Puget Sound Chinook, while several wild populations are more robust.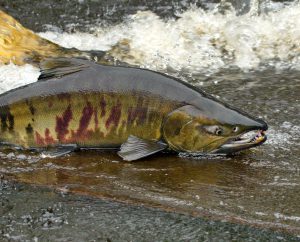 CHUM salmon are a colorful, locally abundant species in coastal rivers, Puget Sound, Hood Canal, and the Columbia River. Juvenile chum migrate to the ocean almost immediately after emerging from their natal gravels, generally returning 3 to 4 years later to spawn. In Washington, chum favor lower river habitats with upwelling water, particularly in areas scoured by ice-age glaciers. Chum often are targeted for their large eggs, cured and eaten as caviar. In Washington, Endangered Species Act protections apply to lower Columbia River chum and Hood Canal summer chum, while abundant wild Puget Sound fall chum support recreational and commercial fishing.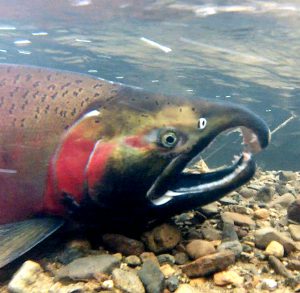 COHO salmon, like their close relative the Chinook, are popular targets for sport and commercial fishing. Coho generally spawn in small streams and spend a year in freshwater before migrating to the ocean. Most return as 3-year-old adults. In Washington, Endangered Species Act protections apply to lower Columbia River coho. Snake River and mid-Columbia River coho are being reintroduced after being driven to extinction. Tribally led efforts to reintroduce coho in several Columbia River watersheds are showing promise, and more abundant populations persist in Puget Sound and on the Coast.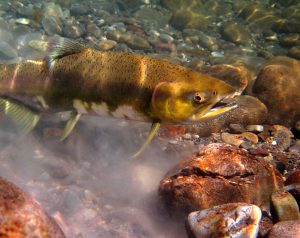 PINK salmon are the smallest and most abundant Pacific salmon throughout their native range. Like their close relative chum salmon, pinks spend very little time in freshwater after emerging from the gravel. Unlike other salmon that spawn at various ages, pinks only return to their rivers as 2-year-old adults. In Washington, this results in abundant runs of adult pink salmon during odd years, while in even years they are almost absent. Pink salmon are harvested in large numbers and used for affordable, processed salmon products such as salmon patties or frozen fillets. Pink salmon populations are considered healthy throughout their ranges.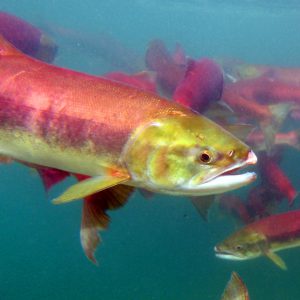 SOCKEYE, like chum and pink salmon, are near the southern end of their ranges in Washington State. Prized for their deep red meat, sockeye populations that are not Endangered Species Act-listed are targeted by tribal, commercial, and sport fishers along the Coast, Columbia River, and a few rivers in Puget Sound. Sockeye juveniles spend substantial time in lakes, a unique life history choice for Pacific salmon. Further north, sockeye form the backbone of the Bristol Bay fishing industry in western Alaska, where tens of millions of fish are harvested annually. Lake Ozette sockeye are protected by the Endangered Species Act in Washington, as are Snake River sockeye, which pass through Washington en route to their spawning areas in Idaho.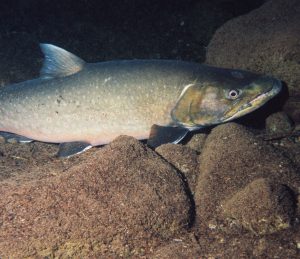 BULL TROUT are more closely related to brook trout and arctic char than Pacific salmon. Bull trout live complex lives. Some travel to saltwater as adults, while others spend their entire lives in freshwater, sometimes spending their adult years in reservoirs. All bull trout populations in Washington are Endangered Species Act-listed, and all require extremely cold, clean water to survive. Bull trout populations are found throughout the state.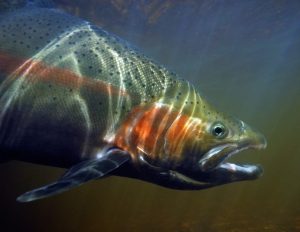 STEELHEAD are a type of rainbow trout that migrates to the ocean to grow to adulthood. Unlike their other Pacific salmon relatives, steelhead do not always die after spawning and can sometimes return to their natal rivers to spawn several times. Steelhead juveniles rear in freshwater longer than other salmon, often for 2 or more years before migrating to the ocean. Adults return to rivers throughout the year, with major run peaks in winter and summer, depending on the population. Steelhead are popular sport fish throughout their ranges. Endangered Species Act protections apply to lower, middle, and upper Columbia River steelhead, Snake River steelhead, and Puget Sound steelhead in Washington. The last populations of steelhead in Washington without Endangered Species Act protection are on the Washington Coast, where returns have been poor in recent years.
These iconic fish used to be plentiful, but over time that has changed. As the human population in the state grew so did the need for housing and industry, and unfortunately, destruction of natural salmon habitat followed. During the 1990s, populations of all these species were listed under the Endangered Species Act. This fueled the salmon recovery movement seen today.
Seven regional organizations formed to begin the challenging work of recovering salmon and their habitat. Through community action and state legislation, these organizations now implement salmon recovery strategies years in the making. Initially, these strategies were based on the four Hs of salmon recovery:
Habitat (restoration of destroyed habitat)
Hatcheries (reduction of competition for foot and other resources between hatchery and wild salmon)
Harvest (reduction of fishing and exploitation)
Hydropower (improvement or remove dams and fish barriers)
Over time, regions have adjusted these salmon recovery strategies to include addressing impacts from climate change and predation. The past has revealed these to be complex and interconnected problems that aren't solved overnight. Washingtonians can be proud in the great strides taken so far to improve salmon and their habitat.
See the Salmon Recovery Timeline
Salmon are a remarkable species that play a vital role in the Pacific Northwest. They spend their life making an incredible migration from freshwater, out to the ocean, and back to the stream where they were born. During this journey, salmon go through several life stages.
Learn about the Salmon Life Cycle
Why Recover Salmon?
Salmon are an integral part of the lives of Washingtonians. They serve as a source of food, industry, economy, spiritual and cultural identity, and recreation.
Washington State is obligated to uphold treaty-reserved fishing rights for Indian tribes and has a duty to ensure salmon are present and available for harvest. Treaty Indian tribes co-manage the salmon resource with the State. Through treaties with the federal government, treaty Indian tribes gave up their lands in exchange for perpetual access to certain natural resources. Salmon are a sacred cultural, spiritual, and economic resource to tribes. The profound value of salmon to tribes fuels their deeply committed and strong leadership in salmon recovery.
Along with co-managing salmon, many treaty Indian tribes and tribal organizations produce reports, such as the State of Our Watersheds8 by the Northwest Indian Fisheries Commission, that provide an ongoing scientific foundation for recovery. The tribal perspective and vision of keeping salmon strong and harvestable for future generations is a model that has maintained salmon in the rivers and can help propel successful recovery across the state.
Beyond legal and moral obligations, salmon are important to Washington's economy, environment, recreation opportunities, food supply, and culture. Consider the following:
Commercial and recreational fishing in Washington is estimated to support 16,000 jobs and $540 million in personal income.39
An estimated $1.5 billion is spent annually on equipment and trip-related costs by people fishing and harvesting shellfish recreationally in Washington,40 supporting many rural families and businesses.
Many other animals rely on salmon. Scientists estimate 138 species of wildlife, everything from whales to insects, depend on salmon for their food.3
Salmon are woven throughout tribal cultures as a source of food, spirituality, work, art literature, heritage, and celebration.
What Does Recovery Mean?
"Congress passed the Endangered Species Act in 1973, recognizing that the natural heritage of the United States was of 'esthetic, ecological, educational, recreational, and scientific value to our nation and its people.' It was understood that, without protection, many of our nation's native plants and animals would become extinct. Recovery is the process of restoring listed species and their ecosystems to the point where they no longer require Endangered Species Act protections. Endangered and threatened species may have different needs and may require different conservation strategies to achieve recovery."  National Oceanic and Atmospheric Administration
Working Together
It is going to take working together and expanding those who are at the table to recover salmon. Washingtonians must work together to protect the Northwest culture. Every person can bring his or her own uniqueness to this movement, and together salmon can be saved.
Salmon Recovery Stories
Enter "Salmon Stories" using the button below to explore story maps from tribes, salmon recovery groups, and agencies.