Puget Sound Toxic Pollution
In Puget Sound, many river systems show levels of toxic chemical pollution that increase health risks to juvenile salmon. As they grow, Puget Sound salmon accumulate toxic chemicals such as PCBs (polychlorinated biphenyls) and PBDEs (polybrominated diphenyl ethers). These chemicals can reduce growth, increase disease susceptibility, and alter hormone production, all of which can reduce the survival of the salmon. Contaminants are limiting recovery for many Chinook salmon populations in the Salish Sea.26
As predators eat Puget Sound salmon, the health risks of these toxic chemicals are magnified, particularly in Southern Resident orcas and humans. Contaminants in Chinook salmon are above the threshold for concern for human health.41 Actions planned or underway to address contaminants include banning some toxic chemicals, Superfund Site and sediment cleanups, improved monitoring, and implementing recommendations from the Toxics in Fish Implementation Strategy and Washington State Governor's Southern Resident Killer Whale Task Force.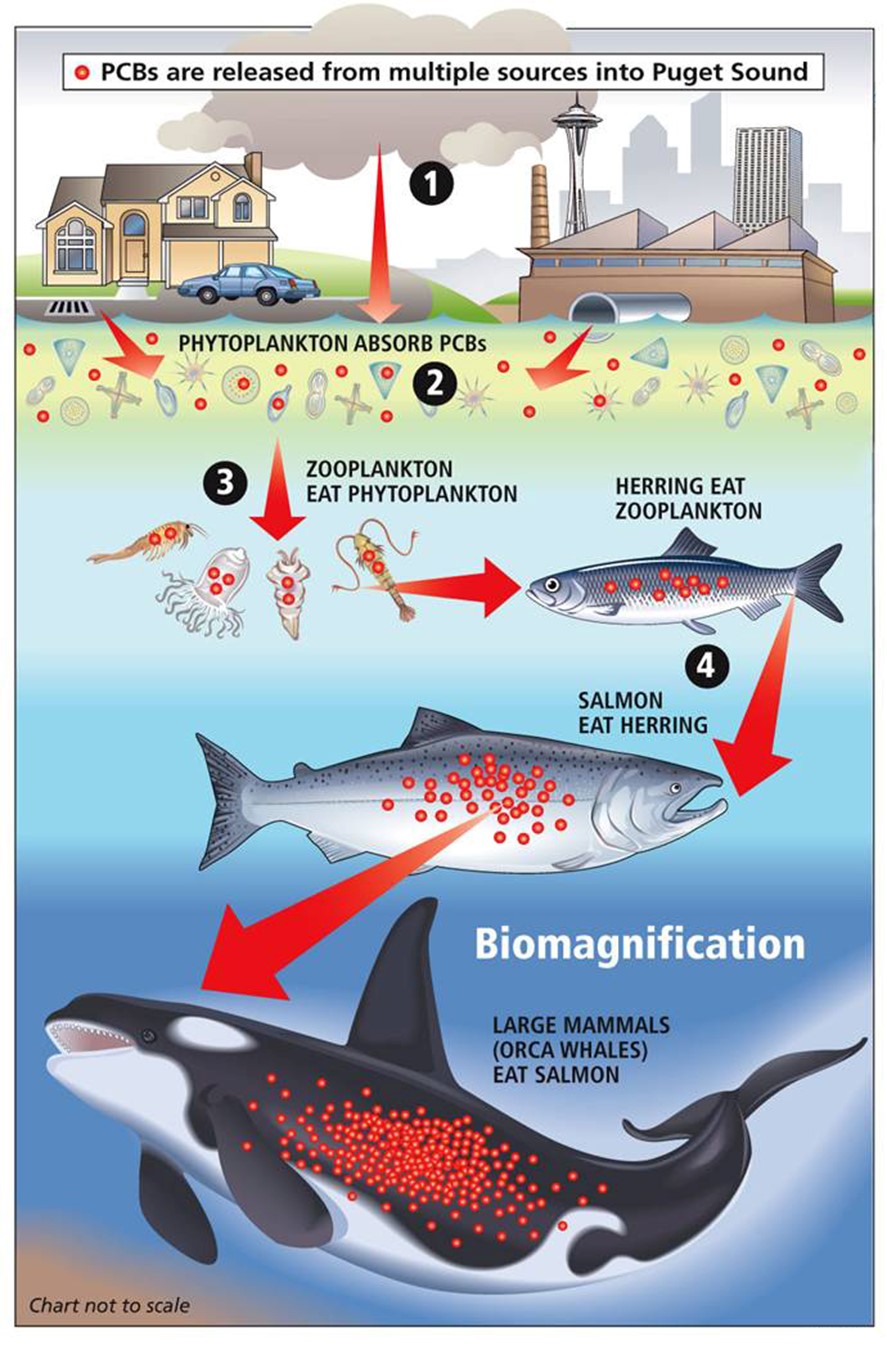 Stormwater Runoff Contaminant Linked to Salmon Deaths
For decades, coho salmon returning to streams in developed areas in Puget Sound have been dying at high rates before they can spawn. Researchers recently identified 6PPD-quinone, a chemical produced as car tires wear, as the cause of these fish kills.42 Strategies and actions to address stormwater impacts on salmon are included in the update to the regional chapter of the Puget Sound Salmon Recovery Plan, 2022-2026 Action Agenda, Toxics in Fish Implementation strategy, and Governor's orca task force recommendations.
View statewide data on Water. Visit the Salmon Data Hub for more of the data behind the indicator charts and graphs used throughout this site.