Summer Chum on the Rebound
The Hood Canal Salmon Recovery Region supports two populations of wild summer chum salmon–Hood Canal and Strait of Juan de Fuca. Together they form the Evolutionarily Significant Unit that is listed as threatened under the federal Endangered Species Act.
Today, these salmon are returning to spawn in their natal rivers at levels that are considered stable and robust. While overall Hood Canal summer chum populations are on the rebound and recovery efforts have helped stabilize the populations, concerns remain for some sub-populations, particularly in the area of population diversity. The populations appear to be on the right path to recovery, but additional work is needed to ensure they remain robust into the future.
Now is the critical time to continue to move summer chum populations forward to be the first salmon species recovered under the Endangered Species Act.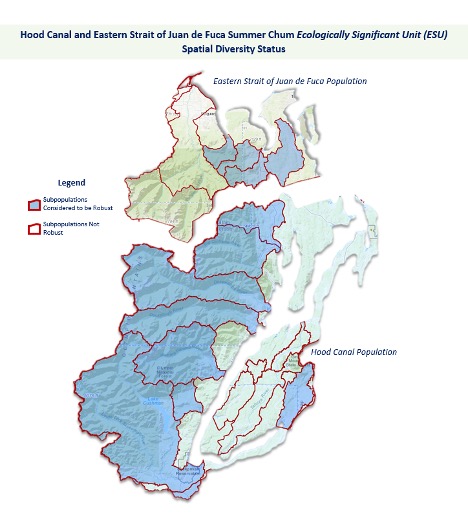 View data on Salmon statewide. Visit the Salmon Data Hub for more of the data behind the indicator charts and graphs used throughout this site.