Recovery Plan Progress in Hood Canal
Hood Canal summer chum populations are showing marked improvement in abundance, productivity, and spatial diversity (where and when they migrate and spawn). The core populations are considered robust with overall abundance numbers increasing. Genetic diversity is improving across the Evolutionarily Significant Unit.
Habitat–The region should assess habitat needs in key areas and determine which of the recovery plan's proposed actions still are needed. The analysis should ensure that high-quality habitats are being created and maintained to sustain summer chum into the future.
Hatchery-Supplementing native stocks has contributed to the improvement of sub-populations of summer chum salmon. Biologist still need to analyze if there is enough geographic and genetic diversity of salmon across all populations, especially in the western Kitsap Peninsula (i.e. Dewatto River, Tahuya River, Big Beef Creek).
Harvest–Fishing restrictions have been designed to address recovery of summer chum salmon and continue to contribute to recovery.
Hydropower–Actions taken to mitigate the effects of the hydropower dams on North Fork Skokomish River for Chinook salmon also benefitted the region's summer chum populations. The actions, combine with extensive habitat restoration in strategic locations, have resulted in a robust population of wild summer chum salmon returning to the Skokomish River.
Broad-sense Recovery–Our goal is to ensure broad recovery so that there are enough robust and genetically diverse summer chum salmon to allow directed and incidental harvest.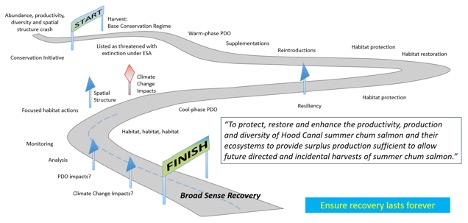 Salmon recovery in Washington is driven by regional salmon recovery plans. The recovery plans provide the actions and rationale for where to invest and when. Each region reports on the actions implemented related to what is recommended in the regional recovery plan. The information about recovery plan implementation is grounded in the regional organizations' extensive knowledge of recovery issues and recovery progress.