Habitat project accomplishments in lower Columbia
In the lower Columbia, salmon and steelhead inhabit nearly 2,300 river miles throughout 17 subbasins and the estuary. It is estimated that the habitat has declined anywhere from 30-90 percent. While restoration of all lost habitat is neither practical nor necessary, success in recovering our salmon runs will require both restoring degraded habitat as well as protecting functioning habitat.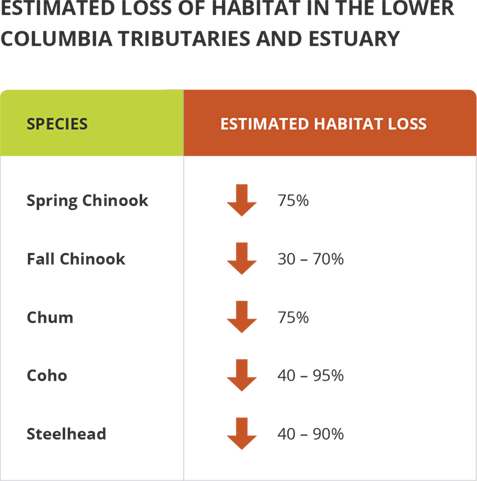 The most common impacts to habitat conditions are:
Dams that require regulated stream flow
Blocked passage due to failing culverts, tide gates, and other barriers
Seasonal variations in high and low flows affecting water quality and temperature
Loss of channel stability and migration corridors
Limited off channel spawning and rearing areas
Loss of habitat complexity that provides protection from predators
Loss of nutrients that support juvenile survival
This information forms the basis for identifying priority protection and restoration needs. Referred to as Tier 1 and 2 reaches, these 575 highest priority reaches encompass 675 river miles and are the primary focus of restoration work. To date, lower Columbia sponsors have implemented more than 2,700 projects using a variety of funding sources.
View key recovery indicators for Lower Columbia