Why Recover Salmon?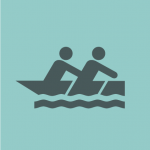 The Endangered Species Act requires the federal government to protect species that are in danger of extinction or likely to become so. Since 1991, the federal government has declared 14 species of salmon and steelhead in Washington as at-risk of extinction under the Act. Regional organizations throughout the state formed to develop and implement recovery plans.
Washington State is obligated to uphold treaty-reserved fishing rights for Indian tribes and has a duty to ensure salmon are present and available for harvest. Treaty Indian tribes co-manage the salmon resource with the State. Through treaties with the federal government, treaty Indian tribes gave up their lands in exchange for perpetual access to certain natural resources. Salmon are a sacred cultural, spiritual, and economic resource to tribes. The profound value of salmon to tribes fuels their deeply committed and strong leadership in salmon recovery.
Beyond legal and moral obligations, salmon are important to Washington's economy, environment, recreation opportunities, food supply, and culture.
Washington State is obligated to uphold treaty-reserved fishing rights for Indian tribes and has a duty to ensure salmon are present and available for harvest.
What's at Stake
Economy: Commercial and recreational fishing in Washington is estimated to support 16,000 jobs and $540 million in personal income.3
Environment: As a keystone species, salmon reflect the health of the environment from mountain rivers to the ocean. Scientists estimate 138 species of wildlife, everything from whales to insects, depend on salmon for their food.4
Recreation: An estimated $1.5 billion is spent annually on equipment and trip-related costs by people fishing and harvesting shellfish recreationally in Washington,5 supporting many rural families and businesses.
Food Supply: The Washington Department of Ecology reported an estimated 32 percent of adults in the state ate salmon in 2010.6
Social Justice: Restoring salmon habitat improves environmental health and human well-being. Many low-income and marginalized residents, who are more likely to be subjected to pollution and poor living conditions, may benefit from having more salmon to eat. In addition, prioritizing salmon recovery prioritizes the livelihoods, experiences, and voices of diverse communities.
Culture: From the earliest times, people of the Northwest have identified themselves with salmon. The state's first inhabitants–Indian tribes–defined themselves as the Salmon People.7 Salmon are woven throughout tribal lives as a source of food, work, art and literature, heritage, and celebration. Washington Indian tribes remain committed to protecting and recovering salmon and have worked tirelessly to restore their habitat. To this day, government agencies rely on the knowledge, stories, and expertise tribes have when co-managing this treasured fish.
Salmon are special to other Washingtonians as well. Considered an icon of the Pacific Northwest, salmon grace the back of the state's commemorative quarter. Residents gather by the thousands annually at festivals throughout the state to celebrate the wild fish's journey home from the ocean. Salmon have long been a part of many family fishing traditions and fishing businesses. Salmon remain significant to the people of Washington today.
Indian Tribes and Salmon Recovery
Indian tribes in Washington always have been leaders in salmon recovery. Tribes are committed to restoring salmon populations for the benefit of all and to ensure that a way of life and cultural heritage are sustained.
Tribal governments are responsible for hundreds of successful salmon habitat restoration projects. In partnership with the Washington Department of Fish and Wildlife, treaty Indian tribes co-manage the state's salmon and produce about 40 million salmon annually. In addition, working with federal agencies and other states, treaty Indian tribes set the fishing seasons each year.
Tribal knowledge, expertise, experience, and understanding is critical for salmon recovery.
Along with co-managing salmon, many treaty Indian tribes and tribal organizations produce reports, such as the State of Our Watersheds by the Northwest Indian Fisheries Commission,8 that provide an ongoing scientific foundation for recovery. The tribal perspective and vision of keeping salmon strong and harvestable for future generations is a model that has maintained salmon in the rivers and can help propel successful recovery across the state.
What Does Recovery Mean?
"Congress passed the Endangered Species Act in 1973, recognizing that the natural heritage of the United States was of 'esthetic, ecological, educational, recreational, and scientific value to our nation and its people.' It was understood that, without protection, many of our nation's native plants and animals would become extinct. Recovery is the process of restoring listed species and their ecosystems to the point where they no longer require Endangered Species Act protections. Endangered and threatened species may have different needs and may require different conservation strategies to achieve recovery."
National Oceanic and Atmospheric Administration
Videos
Salmon's Agreement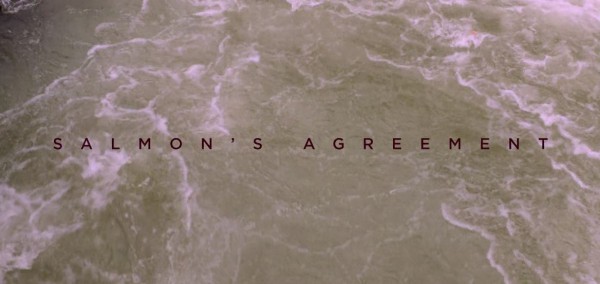 This short film from indigenous perspectives shows how salmon keep their agreement to us and the environment, giving up their lives to spawn again and again.  Watch the Video
South Prairie Restoration Project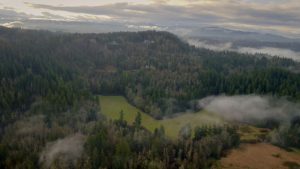 This video showcases the restoration of South Prairie Creek in Pierce County and discusses the value of salmon restoration for the salmon themselves and for people.  Watch the video.
Banner photograph was taken by Kevin Long with the North Olympic Salmon Coalition of a coho salmon jumping at Hoko Falls, near Seiku on the Olympic Peninsula. A project funded by the Brian Abbott Fish Barrier Removal Board was completed recently nearby.
Gallery photograph of young girl with fish at Clear Lake near Spokane, courtesy of the Washington Department of Fish and Wildlife. Gallery photograph of men in canoes is of Lummi Nation members reef net fishing, taken by Brad Angerman (Pyramid, Stonington Gallery).
The tribal photograph by Erika Nortemann was taken on the beach of the Quinault Indian Reservation during the canoe journey of 2013.