Salmon Status in Washington
Today, 14 species of salmon and steelhead are listed as at-risk of extinction under the Endangered Species Act.
Among these species there is a wide range of progress towards recovery. Some species are moving in the right direction and are approaching their goals, such as Hood Canal summer chum and Snake River fall Chinook. While others, such as Puget Sound Chinook and upper Columbia River spring Chinook, continue to fall further behind and are in crisis.
Salmon in Washington show a wide range of progress towards recovery.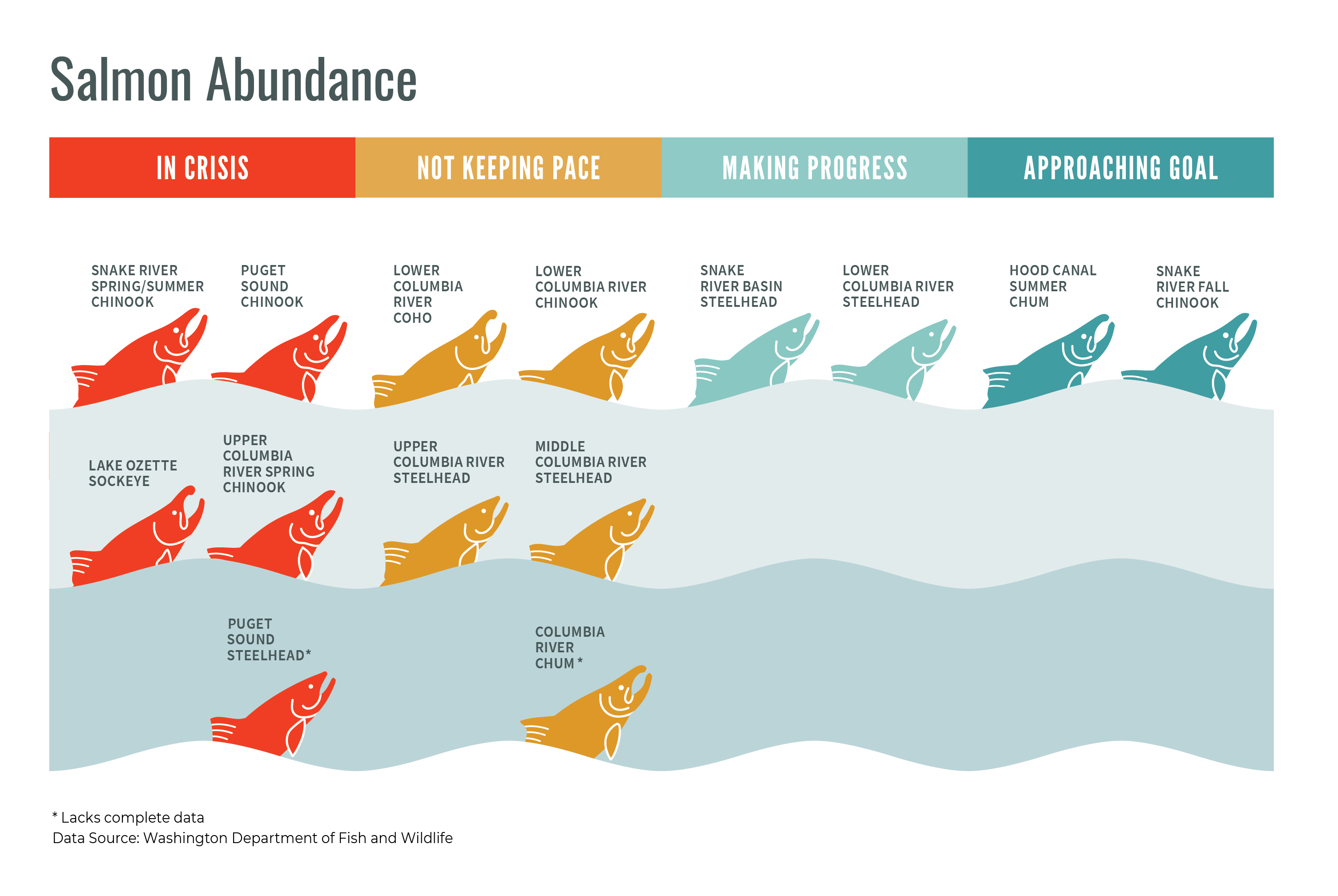 Chart Details
The chart above provides a general statewide snapshot of the relative progress towards recovery for at-risk salmon and steelhead in Washington. The chart relies on local knowledge and expertise combined with statistical measures that estimate the number of adult fish returning to their home rivers to spawn.
The National Oceanic and Atmospheric Administration (NOAA) evaluates attributes that are not shown in this report such as productivity, life history, genetic diversity, and the spatial structure (geographical spread) of the populations. NOAA also considers threats and factors affecting the health of fish including habitat, hydropower, hatchery, and harvest impacts. NOAA's analysis, called the 5-year biological status review, is the method by which NOAA determines progress towards federal de-listing and recovery. The chart above does not replace NOAA's status review.
This report does not address salmon and steelhead species that are not listed under the federal Endangered Species Act, such as salmon on the Washington Coast. Keeping these species off the Endangered Species Act list requires continued attention and due diligence. Salmon recovery is a statewide investment.