The Salmon Struggle
Salmon have complicated lives, which helps make them resilient to change, but also make them vulnerable to human activities. Six species of salmon and steelhead (depending on how they are counted) live in Washington State. Salmon are born in freshwater, rear in streams, then head downstream to spend time in the estuaries where they can grow large enough to survive in the ocean. They return home to spawn, beginning the cycle all over again. It is estimated that less than 1 percent of salmon survive long enough to return home to spawn.12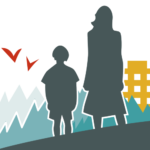 Salmon recovery in Washington focuses on the key factors that led to their declines: habitat, harvest, hydropower, and hatcheries. Since federal listings, several other factors have increased pressures on salmon including climate change and predation by seals and other pinnipeds, birds, and other fish.

Risk Factors in Salmon Recovery
Banner photograph of habitat degradation in the Duwamish River in Seattle, courtesy of the Washington Department of Ecology.
Photograph for climate by Marc Duboiski, Recreation and Conservation Office.
Photograph for hatcheries of the Chief Joseph Dam hatchery courtesy of the Confederated Tribes of the Colville Reservation.