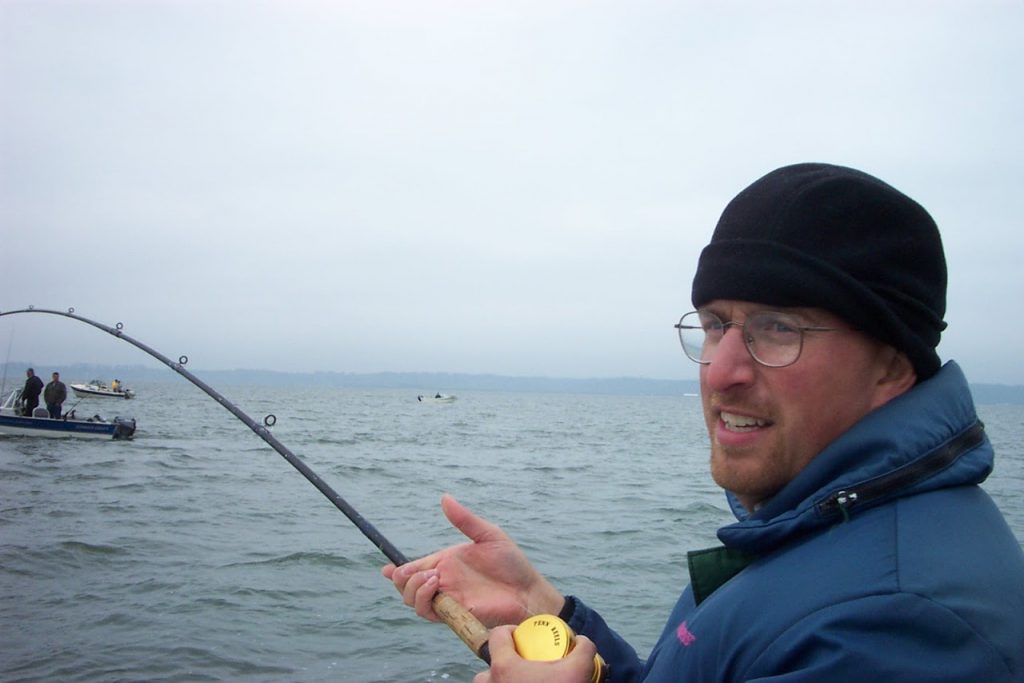 We dedicate the 2016 State of Salmon in Watersheds report and Web site with deepest respect and gratitude to the late Brian Abbott, executive of the Governor's Salmon Recovery Office. Brian's leadership and vision were the foundation of this year's report. We honor and greatly miss his inspiration, optimism, persistence, passion, and integrity in service to Washington salmon recovery. Fish-on, Brian!
Development of this report was not possible without the cooperation, reviews, data, and content from many individuals and organizations across the state. Especially significant are contributions from the regional salmon recovery organizations, the Northwest Indian Fisheries Commission, the Department of Fish and Wildlife, and the Department of Ecology.
Also, special thanks goes to David Hahn for the video on the home page. "The Coho are coming" is part of a continuing video series on wild, native salmon in Washington's Sol Duc River. Filmed in Barking Dog Hole on the Olympia Peninsula in summer 2016, the video was originally created for Forks Intermediate School 6th grade science classes.
Regional Salmon Recovery Organizations: Todd Andersen, Darcy Batura, Eric Berntsen, Scott Brewer, Kris Buelow, Jennifer Burke, MarySutton Carruthers, Cathy Cochrane, Alex Conley, Jeanette Dorner, John Foltz, Leska Fore, Nathalie Hamel, Jessica Helsley, Heidi Huber, Melody Kreimes, Mike Lithgow, Greer Maier, Steve Manlow, Steve Martin, Patty Michak, Alicia Olivaras, Rich Osborne, Melody Tereski, Stacy Vynne, and Jason Wilkinson
Tribes: Nisqually Indian Tribe: Amy Calahan, Jennifer Cutler, Christopher Ellings, Ashley Von Essen, David Troutt. Northwest Indian Fisheries Commission: Katie Anderson, Todd Bolster, Ken Currens, Eliza Ghitis, Cecilia Gobin, Bruce Jones, Tony Meyer, Emmett OConnell, Jim Peters, Jim Weber, Fran Wilshusan. Point No Point Treaty Council: Thom Johnson. Quinault Indian Nation: Bennett Hestmark. Skokomish Indian Tribe: Dave Herrera and Alex Gouley
Washington Department of Ecology: Dave Christensen, Glenn Merritt, Paul Pickett, Markus Von Prause, Carol Smith
Washington Department of Fish and Wildlife: Eric Anderson, Joe Anderson,  Brett Barkdull, Aaron Bosworth, Thomas Buehrens, Joseph Bumgarner, Jonathan Carey, Randy Cooper, Brodie Cox, Bethany Craig, Ethan Crawford, Derek Dapp, Mark Downen, John Easterbrooks, Rick Ereth, Amber Forkan, Ryan Fortier, Charles Frady, Pat Frazier, Anthony Fritts, Michael Gallinat, Natasha Geiger, Bryce Glaser, Chris Gleizes, Steven Gray, Michele Groesbeck, Michael Gross, Angelika Hagen-Breaux, Pat Hanratty, Lisa Harlan, Shane Hawkins, Todd Hillson, Annette Hoffmann, Josua Holowatz, Curt Holt, Kirt Hughes, Michael Hughes, Christina Iverson, Mclain Johnson, Eric Kinne, Clayton Kinsel, Matt Klungle, Douglas Kramer, Jamie Lamperth, Gil Lensegrav, Tara Livingood, James Losee, David Low, Anne Marshall, Gary Marston, Pete McHugh, Glen Mendel, Todd Miller, Chris Moran, Andrew Murdoch, Erik Neatherlin, Nathanael Overman, Kurt Perry, Laurie Peterson, Larry Phillips, Ken Pierce, Dave Price, Jennifer Quan, Mike Scharpf, John Serl, Charlie Snow, Pete Topping, Jeremy Trump, Peter Verhey, Josh Weinheimer, Jennifer Whitney, Jeremy Wilson, and Mara Zimmerman
Washington Department of Natural Resources: Lalena Amiotte, Brandon Austin, Cindy Dickerson, Donelle Mahan, Aaron Perry, Joseph Shramek, Kevin Smith
Washington Recreation and Conservation Office: Dave Caudill, Scott Chapman, Kaleen Cottingham, Russ Cunningham, Patty Dickason, Bob Euliss, Leslie Frank, Tara Galuska, Alexis Haifley, Mark Jarasitis, Scott Robinson, Alice Rubin, Greg Tudor, and Susan Zemek
Federal Government: National Oceanic and Atmospheric Administration, Northwest Fisheries Science Center: Katie Barnas, Monica Diaz; National Oceanic and Atmospheric Administration, National Marine Fisheries Service Northwest: Steve Leider
Other Important Contributors: Jeff Breckel, ESRI, Paladin Data Systems, Will Saunders, Socrata, and the Washington State Conservation Commission: Brian Cochrane, Laura Johnson, Ron Shultz.
Funders: National Oceanic and Atmospheric Administration, Pacific Coastal Salmon Recovery Fund, Salmon Recovery Funding Board, U.S. Fish and Wildlife Service, Washington Department of Fish and Wildlife
Web Site, Data and Story Development:
Pyramid Communications, Hot Pepper Studios, SBGH-Partners: Scott Boettcher, South Sound Spatial: Chantell Krider, Kahea Hendricks.